Computer Sales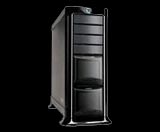 Our computers are hand built by us. We only use the best components in our systems. We have been building computers for approximately 20 years so we are only too familiar with current hardware. We have seen many platforms come and go and pride ourselves on supplying the best based on our experience. Here at itworknplay careful consideration has been given to every single bit of hardware in our computers and is chosen for performance, reliability, longevity and of course looks so they fit in with any decor.
Processor
With a choice of processors we have something for most budgets. Only full genuine lintel processors go into our machines. No cut down or scaled back processors here.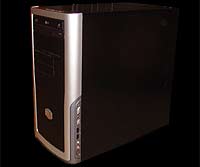 Memory
We only use quality ram, chosen from two manufacturers to perfectly suit our computers. We do not use the cheapest ram available. Even our entry level system has 2 gig of quality ram.
Hard Drive
Sizes from 250 gigabytes to several terabytes we can provide you with as much hard disk space as you need. Again we only use specific drives.
Power Supply
The PSU's job is to provide a multitude of accurate, stable D.C voltages for the entire system. By only using psu's in excess of 80% efficiency more of your electricity is actually used to power your system with less wasted energy costing you less. This results in less heat dissipation and ultimately coupled with a high power rating equates to constant quiet operation under all loads and giving the computer a long lifespan. All our power supplies are from the same manufacturer chosen specifically for their stable D.C voltages under all loads.
Video Card
Not only does this supply the digital picture information to your TV it can actually share the decoding process of H264 High Definition streaming if you choose the right card. It also renders games with lightning fast accuracy providing your computer with awesome frame rates in games. Passive cooling means there are no fans just a large copper radiator allowing for silent operation.
Sound Card
24 bit hi-resolution sound on all our computers. This provides extremely hi quality audio for gaming, music, online radio and online TV and films.
Options
With options for processor, ram, hard drive, case, DvDR/Blueray drive, monitor and cables we can accommodate your computing needs.
Computer Installations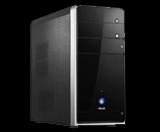 We unpack and setup everything including computer base unit, keyboard, mouse, monitor, speakers, internet and network connections. We do not leave until you understand how to make the best of your new computer.
Software
If you have specific software you need on your new computer we will install and configure it for you at no extra cost. We even install all the little things that allow all films and music to play, all web sites to work correctly and many other software updates that we consider essentials for everyday computing.
Need A New Computer in Sheffield?
For new computers in Sheffield or computer repairs in Sheffield please give us a call.
Our telephone number is 0114 2378904
Computer Cables
Chosen for their conductivity and resistance to radio frequency interference (RFI) and electromechanical frequency interference (EFi) the cables we use improve performance, picture quality (on a monitor and on a television set) and sound quality. From the hard drive interconnects to the mains leads, monitor/tv cables and audio interconnects we have options to suit most budgets.
Do Good Quality Cables Make a Difference?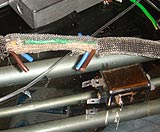 The answer is most definitely yes. It has long been known that better interconnects improve music and video reproduction. The science is simple. Reject maximum interference whilst maintaining maximum conductivity at relevant frequencies.
Cable Interference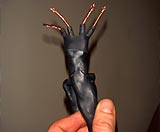 Radio frequency is the enemy of audio and video streams. It is all around us from mobile phones, cord less phones, televisions and radio signals as well as natural forms. These are any signal that oscillate at a high frequency. Just like your car radio receives a signal through most conditions even whilst moving theses signals are induced into your aerial and fed to process circuitry. Well your cables act just like your car aerial attracting radio frequency which induces through the insulation and into your cable conductors. This adds distortion (unwanted noise) to our precious video and audio stream resulting in data loss. The extent of this depends upon the cable insulation, screening and earthing. EFi is the process of inducing a current back into our cable caused literally by the signal sent down it. The signal causes rings of magnetic flux to flow around our cable, this flux is then induced into our cable causing yet more distortion and interference.
Our Cables
Following our simple science approach good cables don't have to cost the earth. We supply a selection of quality cables to suit most budgets.